Will most Singapore motorists cut back on trips to Johor if fee is RM50?
As the Malaysian Government has announced an entry fee, The Straits Times conducted a poll on how the proposal would affect motorists.
On Wednesday, Malaysian Prime Minister Najib Razak announced that foreign vehicles entering the country via Johor would have to pay an entry fee in the near future; and The Straits Times conducted a poll on over 20 motorists to find out how much Singaporeans are willing to pay and if the price would affect the frequency of the trip.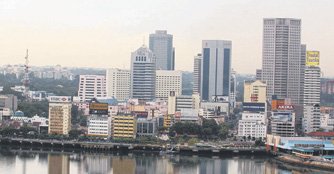 Details on the exact cost of Malaysia's new entry levy and its commencement date will be announced at a later juncture
Currently the proposed fee is floating between RM20 (S$7.80), reportedly suggested by Menteri Besar Mohamed Khaled Nordin of Johor state and RM50 (S$19.50), suggested by State Public Works, Rural and Regional Development Committee Chairman, Hasni Mohammad, earlier this month.
"Even with the proposed fee of RM20 (S$7.80), it is only around S$7.50 for Singaporeans. I do not think there is anything for them to worry about compared to the $35 (RM89.80) vehicle entry permit charge to be imposed on foreign vehicles entering Singapore starting next month," said Minister in the Prime Minister's Department Wee Ka Siong to Malaysian newspaper, The Star.
According to the poll results, it is revealed a small levy of RM20 (S$7.80) would make only a slight difference to how often they crossed the border, but a larger RM50 (S$19.50) levy fee would influence the decision of Singaporeans to a wider extent.
At least one visitor, Mrs. Esther Koh, cited she would stop visiting Malaysia altogether if she had to pay RM50 (S$19.50) to enter as the hassle of waiting an hour in the jam at the checkpoint is not worth it. She currently visits Johor Baru twice a month with family or friends to have a meal and buy groceries and petrol. Mrs. Esther feels making trips to Johor is still worthwhile with a levy fee of RM20 (S$7.80) as the savings she collected from the lower prices every time she visits Malaysia add up to more than RM20 (S$7.80).
About a third of drivers polled here said they would cut back or combine their trips, even if the fee were RM20 (S$7.80), so as not to accumulate a lot of charges. Also, most felt they were willing to pay the entry levy for longer holidays rather than a night out in Johor Baru.
Most drivers here, view the proposed entry fee as a tit-for-tat to Singapore's move to raise vehicle entry fees for foreign cars from the first of August.
~ Source : www.sgcarmart.com ~